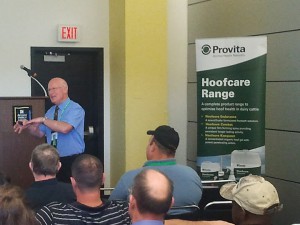 Provita had a busy few days at the World Dairy Expo in Madison when over 300 industry professionals, including hooftrimmers, farmers and veterinarians visited the Provita booth.
Provita is committed to research and product development and we were proud to sponsor the seminars lead by Roger Blowey.
Roger presented informative and entertaining discussions on hoof care during his three seminars at World Dairy Expo. Roger Blowey's special interests are preventative medicine and the interaction of nutrition, disease and environment on the productivity of livestock. He has lectured extensively on these subjects over the world and has written numerous original papers and books on a wide range of livestock topics. Dairy farmers and hooftrimmers gleaned in-depth knowledge into the cause and control mechanisms of lameness as well as benefitting from 'hot off the press' research on the impact of digital dermatitis.
US Regional Sales Manager, Kevin Marmor commented:
"As a result of the World Dairy Expo, we have acquired five new dealers in the USA. Dairy farmers were keen to find innovative ways of tackling the recurring problem of digital dermatitis (hairy warts). It gave us great pleasure to provide not just the solutions but the information and education necessary to help control this recurring hoof health issue."