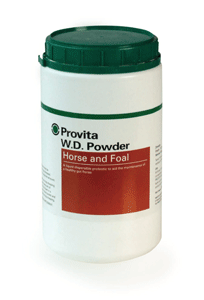 Product name:
Provita WD Powder
Product description:
Provita WD Powder is a water dispersible powder presentation is based on our Horse and Foal Lacteal Paste. It contains EU approved probiotic bacteria in a high energy carbohydrate base. This product ensures a balance in favour of a healthy gut flora reducing susceptibility to digestive upsets and infections.
Prices  start from 19p per application (250 applications)
Unit size
Available in 500g plastic tub which provides 250 doses or 125 horse applications respectively.