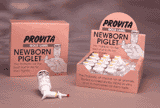 Product name:
Provita Newborn Piglet
Product description:
Provita Newborn Piglet supplies a stable source of EU approved probiotic bacteria, egg powder and vitamins in a high energy base. The EU approved probiotic bacteria ensure a rapid colonisation of the piglet's digestive tract with the resultant stabilisation of the intestinal microflora.
The cost per application is approximately 32p (100 ml x 90 applications) .
Unit Size
Available in  100 ml plastic bottles with dosing guns calibrated to deliver a 1.1 ml dose.