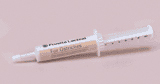 Product name:
Provita Ostrich
Product description:
Provita Ostrich supplies EU approved probiotic bacteria which colonise the ostrich's intestine, therefore making it less susceptible to digestive upsets. Provita Ostrich will help improve performance when used after hatching, stress and transportation.
The price per application starts from 9p (500 g x 500 applications)
Unit size
Available 500g tubs (125-500 applications)
This product can be ordered online (UK/Ireland Customers).