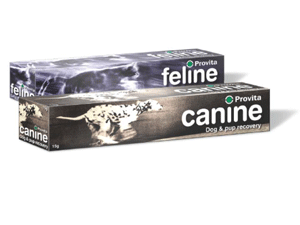 Product name:
Provita Feline Recovery
Product description:
Cats frequently suffer from stress which results in gastrointestinal upset. This is mainly due to diet change, antibiotic therapy or transportation or a different environment such as a cattery. Provita Feline Recovery is a paste that supplies 1 billion cfu per ml EU approved probiotic bacteria in a unique palatable formulation.
At an excellent price of £11.54 per syringe which allows for 15 applications  (77p per application).
Unit size
Available in 15 ml tubes