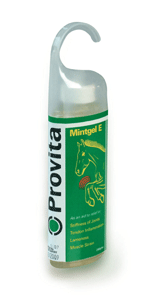 Product name:
Provita Mintgel E
Product description:
Peppermint Oil stimulates blood flow, eases pain and reduces inflammation, while lanolin soothes, protects and moisturises. Mint Gel E is rapidly absorbed through the skin, quickly easing the pain of strains, bruises, saddle sores and general injuries. It can aid in recovery of inflammation of the tendons, muscle strain and facilitates mobility.
Unit size 
Available in a 500g or 240 g self-sealing plastic bottles, with non-drip cap.