Our production facility of some 20,000 sq ft is a purpose-built facility offering high-quality, flexible manufacturing capability.
We continue to invest in the manufacturing facility with the recent introduction of a capsule filling line. This compliments the existing capabilities of manufacturing and filling of:
Powders (sachets, bottles, tubs and buckets)
Liquids (bottles, drums, backpacks)
Creams (tubs and bottles)
Gels and Pastes (aqueous and non-aqueous systems within single or multi-dose syringes)
All manufacture is conducted in accordance with current pharmaceutical and feed legislation. The facility is GMP approved for the manufacture of oral liquid pharmaceuticals for both veterinary and human use. The Medicines and Healthcare Products Regulatory Agency, UK routinely audits the facility against its manufacturing authorisations namely, MIA 11543 and MANA 11543.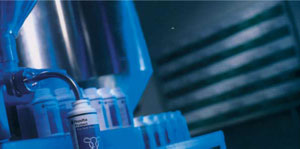 In addition, the facility is an approved UK Feed Business establishment (in accordance with Article 19 of EC Regulation 183/2005) – a GB NI/1518 (ALPHA) and is routinely inspected by Department of Agriculture and Rural Development, NI. Also accredited under the voluntary industry-driven UFAS quality scheme.
Further investment in the facility is ongoing in line with the overall growth of the product range and global marketing activities.
An in-house multidisciplinary design and technical team can develop artworks and print labels to meet a wide range of legislative, language and packaging considerations using state of the art publishing software.