Co Down suckler beef producer Sam Chesney has used Provita Advance+ silage inoculant for 30 years! 
Co Down suckler beef producer Sam Chesney reckons he will be making first cut silage two, or possibly three weeks, later than would normally be the case.
And this is a direct consequence of the late spring and the fact that the Kircibbin area of the Ards Peninsula received three times the normal amount of rain during the month of March.
He explained:
"The sheep get first grazing of the silage swards in the late winter and early spring. As a result, we normally get first cut into the clamp around May 12th.
"But this year it could be the end of May before we cut for the first time. Fertiliser was spread on the first cut silage ground at the beginning of April.
"So we will just have to wait and see what the weather brings over the coming weeks.
But calendar dates mean very little to Sam, when it comes to making silage. Grass will only be ensiled at its optimal growth stage.
He consistently achieves metabolisable energy (ME) value of 11+ in tandem with exceptionally high digestibility levels.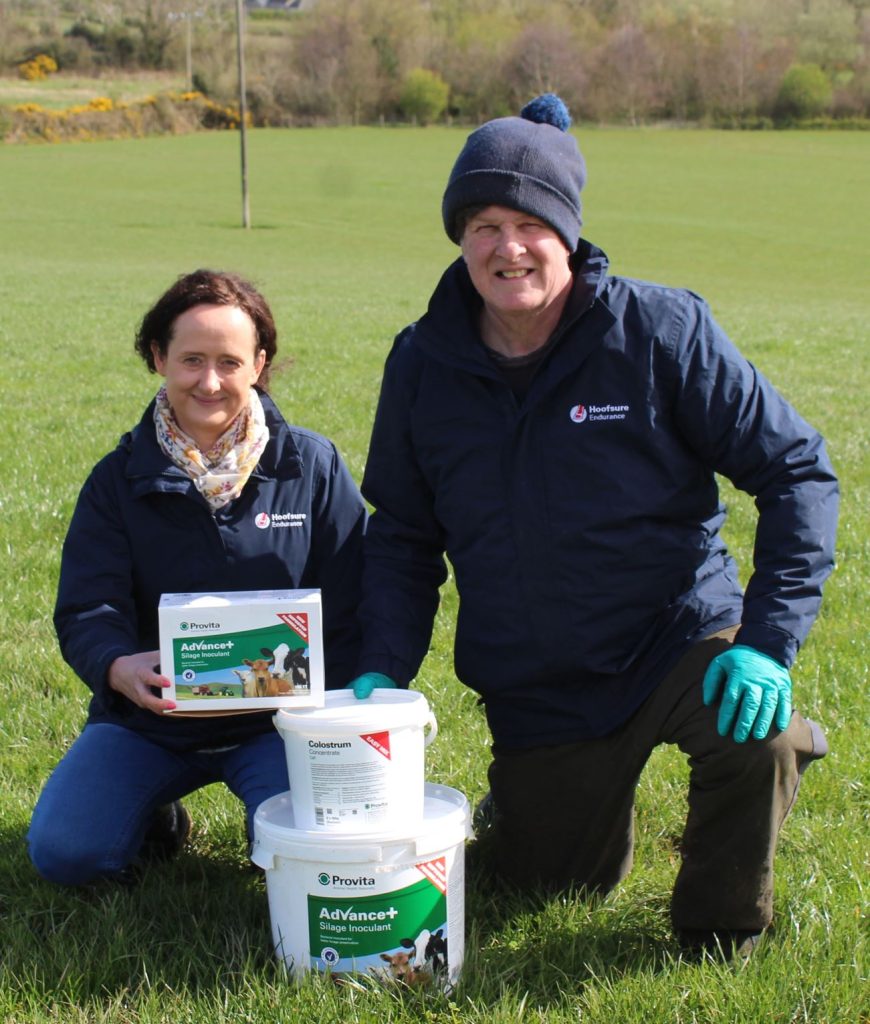 For the past thirty years Advance + silage inoculant, manufactured by Provita, has been consistently used as part of the silage making process on the Chesney farm.
Sam is currently calving 100 cows during the spring period. The plan is to secure optimal value from grazed grass and to secure high levels of performance from all the stock on the farm during the winter period.
All the calves are retained on the farm. Young bulls are finished at around 14 months. Heifers are taken through to 21 to 23 months with a selection retained as her replacements.
Sam commented:
"We take three cuts of silage annually with come bales as well. In addition we take four cuts of red clover silage, all of which is bales.
"Advance +, in liquid form, is used on all silage crops."
He added:
"We normally ensile 100ac of grass as a first cut. It is mowed, kicked and raked, all within 36 hours.
"We precision chap the forage and apply the additive. The clamp is rolled as tight as we can get it, double covered and then weighted down with tyres."
According to Sam, a forage ME value of around 11.0 is what's required for a beef operation.
He explained.
"If we opted for an ME value of 12.0, the silage would just run through the animals. While cattle are housed, feed is delivered in the form of a total mixed ration.
"Straw is added to the diet of finishing cattle and dry cows as a means of boosting fibre levels.
"We are looking for a high quality silage with good dry matter and intake levels. And we consistently achieve these targets."
Red clover silagehas been grown on the Chesney farm for the past 10 years.
Sam explained:
"The clover is grown as a mono-culture. We can take four cuts annually, all destined fpr bales.
"But the big breakthrough came in year five, courtesy of work involving Nigel Scollan from Queen's University, Belfast.
"The decision was taken to use an additive in the silage making process. This step alone increased forage protein values from 17 to almost 20%"
Sam uses a local contractor to harvest and ensile grass.
"Applying the Adavance+ couldn't be simpler," he said.
"We bring the water and the product to the field first thing in the morning. I know that the inoculant is available in liquid forms.
"It's simply a case of mixing the water and the concentrate in the tank that is placed on the harvester.
"The contractor uses a micro application system. This means that he can cover large acreages of ground without having to stop and re-fill the inoculant tank.
"Advance + has been specifically formulated to meet this requirement. The inoculant is also applied to all the grass that is baled.
"Any contractor coming on to the farm must have this facility on the baler."
Sam Chesney's commitment to the Advance+ inoculant is a direct consequence of his experience with the product over so many years.
"It works every time," he said.
"I view the use of the product s an integral part of our silage making process.
"Cost is another factor. Given the current price of fertiliser, silage will be made in Northern Ireland this year for around £40/t.
"The inclusion of Advance+ comes at a very small cost relative to this overall figure. So it makes total sense to use it.
Sam also points to the role of Advance+ in delivering improved forage stability.
He explained:
"We have silage that was made on the farm four years ago. It has been a very long winter, and we are feeding some of this to the cattle at the present time.
"The reality is that the feeding value of the forage is as good now as would have been the case back when it was first made.
"This is a direct consequence of using Advance +. So, it's more than an insurance policy.
"In my opinion, it ticks every box: it's a proven investment."
Sam Chesney is also very aware of the heritage that Advnce+ enjoys here in Northern Ireland.
"It has been developed and manufactured and made by a local company," he stressed.
"But more than this, it has been trialled repeatedly on so many farms right across Northern Ireland over so many years: it works!"
Advance+ is available in both liquid and granular forms. This proven inoculant represents a unique formulation on the UK market.
It combines lactic and acetic acid strains of bacteria at a guaranteed rate of 1.2 million colony-forming units (cfus) per gram of forage.
The strains work together allowing a rapid lactic acid fermentation. This, in turn reduces dry matter losses by an average of 41% followed.
The conversion of some lactic acid into acetic acid which extends stability at the clamp face by 3.6 days – on average.
Forages treated with this Advance+ will have improved stability compared to standard lactic acid products.
Advance+ can therefore be used in forages of all levels of dry matter.
The inoculant it has produced positive results in EU efficacy trials in forage dry matters ranging from 24% to 69%.
In these trials Advance+ has been tested on grass, red clover, alfalfa, wholecrop maize and corn cob maize.
As a result, it can be used with total confidence on a wide range of forage crops: including grass, wholecrop and maize.